Projects
Heiwadori Kawaraban (single-page newspaper)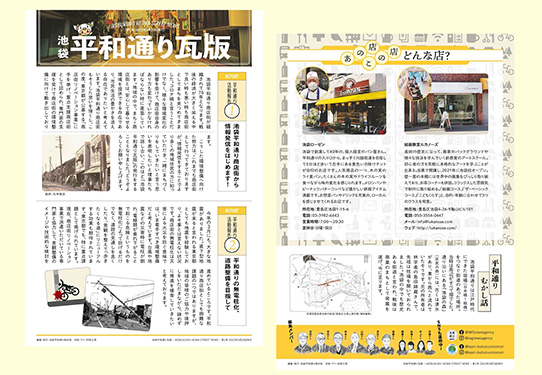 Heiwadori Kawaraban (single-page newspaper), first published in May 2022, is a quarterly publication that contains projects and news that the Shotengai promotes with the purpose of closely sharing information with the local community and forming consensus for each and every promoted project. The newspaper is edited by seven board members and support members by holding monthly meetings to discuss what information to communicate. We provide the latest information on the Shotengai, project reports, introduction of member shops, introduction of non-member shops that have been newly created, as well as historic articles related to Heiwadori.
Projects to promote pole-less and wire-free roads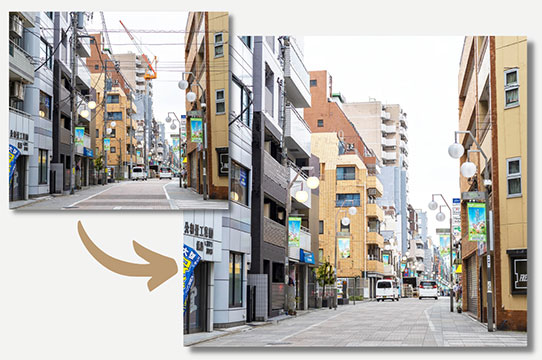 Ikebukuro-Heiwadori Shotengai operates daily with the purpose of creating a shopping district with a park-like experience, under the concept of "safe, appealing, and walkable Ikebukuro-Heiwadori." In order to achieve this, we promote a variety of projects simultaneously. We especially focus on promoting projects to remove utility poles and electrical wires on roads as part of creating a safe environment for the future. We also issue the Heiwadori Kawaraban (single-page newspaper) on a quarterly basis in order to form consensus for the projects and closely share information with the local community.
Aki no Daikansha-sai (autumn thanksgiving)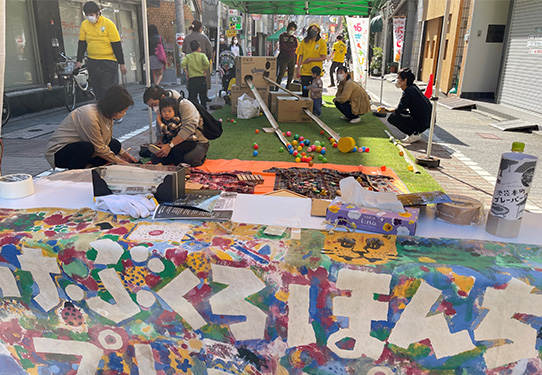 On the fourth Sunday in October every year, we hold the Aki no Daikansha-sai as a community event hosted by the Shotengai. As a project for those who live in the neighborhood, we provide game booths that contain lottery and shooting, a play park and children's pony rides, as well as food and drink for families. The event is not just handled by the Ikebukuro-Heiwadori Shotengai. In the last few years, Toshima Kodomo WAKUWAKU Network, an approved non-profit organization, has cooperated with organizing the event, and it has been enthusiastically received while still maintaining its homey feel.
Patrol for safety, security, and cleaning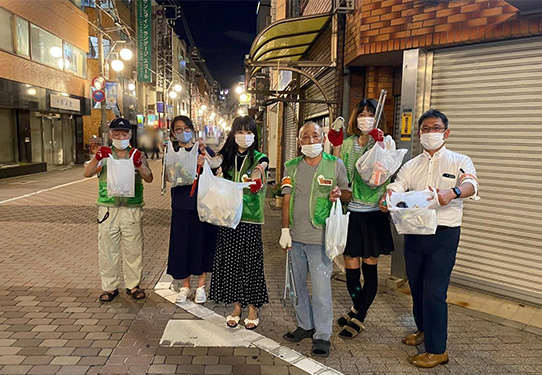 From 8:00p.m. every Thursday, volunteer members of the Shotengai perform a patrol for safety, security, and cleaning, working on beautifying the environment and nighttime patrol. Members from a musician agency join this effort every week to cooperate on picking up litter around Heiwadori.
"Ikebukuro no Mori" (Ikebukuro Forest)
Tokyo Ikebukuro West Gate News Agency
It is a project that started in February 2022 as an SNS (Social Networking Service) publication to share the wonder of local everyday scenery of the entire Ikebukuro West Exit area including Heiwadori. We currently run accounts on Instagram, Facebook, note, and Twitter. We share information and reviews on art and plays in the West Exit area, introduce shops related to the local community in the Shotengai as well as scenery on the street, and provide information on town social events. We also share information on events hosted by Heiwadori and when an empty location is open for prospective shops on a regular basis. We collaborate with non-profit organizations working in Toshima Ward to support young people, Sankakusha and Terakoya, to nurture high school and college student journalists.
Please follow our SNS accounts!